March 14, 2023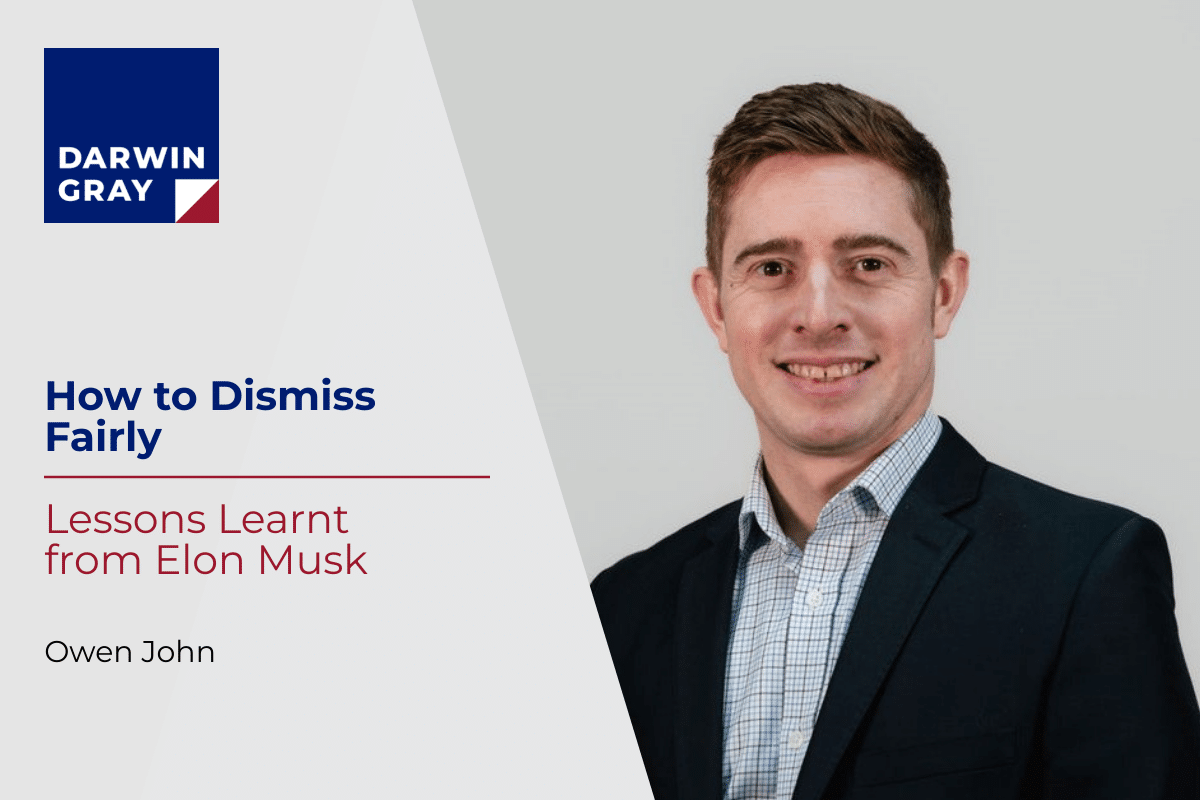 By Owen John
Twitter and Elon Musk were again in the headlines recently about the way in which Twitter staff were being dismissed. Our employment law team look at how to do things properly when it comes to dismissing staff.
In a recently published news story, a Twitter employee was left having to tweet Elon Musk to find out if he still had a job at Twitter. The individual had seemingly been blocked from his Twitter work systems without warning. A public debate on Twitter followed, before the individual confirmed that Twitter's HR team had finally contacted him to confirm that he was no longer an employee. Whilst this is an extreme example, it's important to reflect on the right course of action when dismissing employees.
Establish a reason for dismissing
Your first step is to consider the reason for dismissing an employee. By law, there are 5 potentially fair reasons in which an employee can be dismissed. They are as follows:
Misconduct – where an employee's conduct is such that they've fallen below the standard expected of them.
Capability – where the employee is no longer capable of doing their job (e.g. because of medical reasons or because they lack the relevant qualifications).
Redundancy – this is where an employee's job will no longer exist.
Illegality – where an employee can no longer legally be employed (e.g. because of immigration reasons).
Some other substantial reason – this is a catch-all reason that can vary from case to case. One example would be where pressure is being applied from a third party (such as a customer or client) to dismiss an employee.
A fair process
The second step is to carry out the dismissal in a reasonable way. The best way to achieve this is to carry out a good fair process. This is where Elon Musk could do with paying attention!
Dismissal with notice
Check the contract of employment or the statutory position (if the contract does not specify) for how much notice of dismissal is required. The statutory minimum is 1 weeks' notice up to two years' service or after two years' service 1 week for each completed year of service (up to a maximum of 12 weeks). Check whether you are allowed to make a payment in lieu of notice in the contract of employment as this is not an automatic entitlement.
Dismissal without notice
There will be circumstances when it is necessary to dismiss an employee without notice. E.g. where an employee has committed an act of gross misconduct.
Blocking access to systems?
It's possible (and may be necessary) to have a system in place to block access to accounts and systems, but the employee should always be notified before this happens. If it's necessary to block access immediately, this should be discussed in a meeting rather than allowing a sudden disconnection, or unexpected 'computer says no' when the employee logs on upon starting their day, thereby not following Mr Musk's example!
You can read more about dismissals here.
If you need any further help or advice, please contact Owen John on ojohn@darwingray.com or 02920 829 118 for a free initial chat to see how we can help you.