July 18, 2023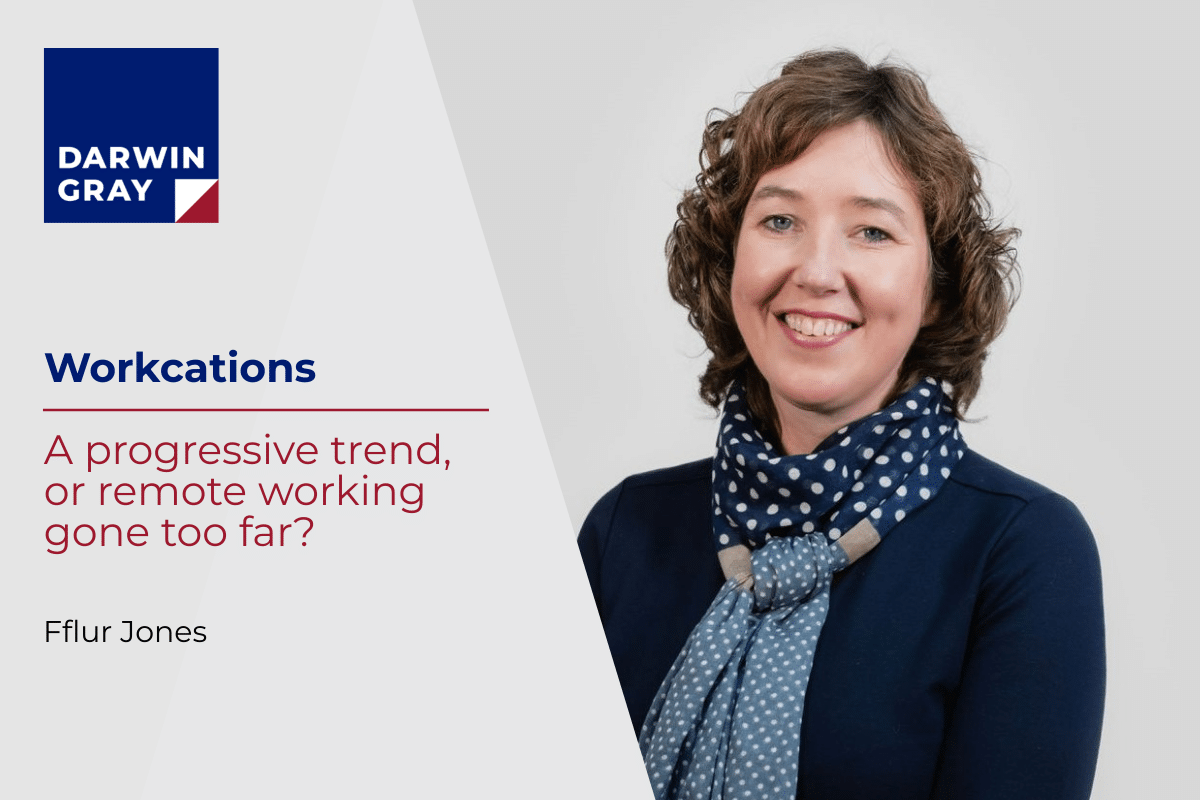 By Fflur Jones
Since the pandemic, the way we work has changed. One of the biggest shifts has come in the form of remote work and the arrangements that it allows. As the name suggests, a workcation is a "working vacation." Our employment team has explored what this recent trend means for employers.
What is a workcation?
A workcation takes flexible working to a whole new level, enabling employees to work from anywhere in the world rather than just from their homes, and to work during hours that suit them while doing so. This enables workers to travel – such as to visit family members who live abroad – without using up annual leave or taking unpaid leave. This is becoming an increasingly popular benefit offered by large employers; for example, PLC permits its UK and US staff to work from anywhere for up to 8 weeks each year.
How can businesses benefit from workcations?
Workcations can be beneficial for both employers and employees. Benefits may include:
Positive impact on employees' mental and physical health. A change in environment has been shown to have a substantial positive impact on employees' well-being, which in turn can lead to a team of happier employees.
Increased job satisfaction. Recent CIPD research has showed that being able to work flexibly is increasingly appreciated and demanded by employees.
Improved recruitment and retention. Employees who can work flexibly feel more trusted and are more likely to stay in their job, and CIPD found that 53% of employees consider the option to work remotely as a key consideration in searching for a new role, behind only pay and benefits.
Increased productivity. Early research from the US indicates that employees who have autonomy over their work locations believe they are more productive than when working under their normal routine.
This accords with research on other newly-popular flexible working trends, such as the rise of the four-day working week and unlimited holiday policies.
What do employers need to consider?
Policy. It's important to have a comprehensive policy in place to avoid confusion and maintain fairness. Factors that need to be addressed include what length of time away is allowed, which categories of employees are allowed to take a workcation, and the security and data protection measures employees are expected to take.
Check for remote work visas. Some countries have implemented remote work visas, which provide a legal framework for remote workers to stay and work in the other country for a period of time without facing legal or tax implications.
Manage expectations. A workcation will be more likely to be successful if the employee knows what's expected of them whilst on their trip. Employers should have open discussions with their employees on the practicalities, such as how quickly the employee will be expected to respond to emails while in a different time zone.
Annual leave laws. Employers should be mindful of their duties under the Working Time Regulations to ensure that employees do take their allocated annual leave and don't routinely work while on leave, as opposed to while on a workcation.
Equipment. Employers will need to consider whether employees require laptops, Wi-Fi hotspots and VPNs, as well as any software of hardware that are specific to the role.
Has remote working gone too far?
Organisations may benefit from implementing a workcation policy; however, they should also consider the hazards. The main challenges lie around tax, data protection and insurance implications – as well as considering whether a workcation policy is right for your sector and workforce. This should be researched and planned for before a new policy is introduced.
Are you exploring different ways of flexible working for your organisation? If you require assistance with any of the above, please contact a member of our employment team, Fflur Jones on 02920 829 117 or fjones@darwingray.com for a free initial chat to see how we can help you.