July 1, 2016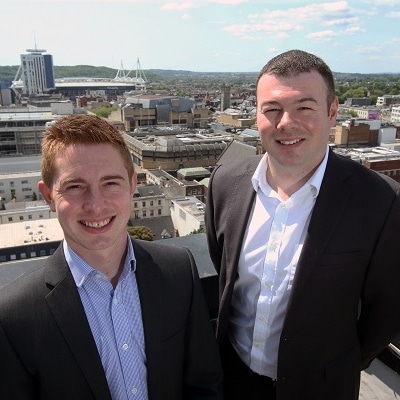 Darwin Gray have appointed two new senior associates who had both started at the Cardiff commercial law firm as trainees. Welsh speakers Gareth Wedge and Owen John have been promoted within the company's Property and Employment teams respectively.
These latest promotions are testament to Darwin Gray's continued success and commitment to staff retention and professional development.
Gareth, originally from Llandudno, was the Cardiff-based firm's first ever trainee solicitor.
He qualified in 2006 and has since been instrumental in the firm's growth through his work on numerous commercial property and corporate transations, including sales and purchases, landlord and tenant matters, re-financing and property work associated with franchises.
Gareth has a particular experise in acting for veterinary practice on acquisitions and disposals. In addition to his role at Darwin Gray, since September 2015 Gareth has been lecturing law at Cardiff and Vale College for CILEx evening courses. His is currently teaching Land Law and Leasehold Conveyancing.
Sports enthusiast Owen began as a trainee with Darwin Gray in 2008 and, after qualifying as a solicitor two years later, went on to co-found www.cyfreithwyr.com last year with Darwin Gray colleague Fflur Jones. This is a first-of-its-kind Welsh language legal website offering Welsh language services for solicitors across Wales.
Owen advices employers and employees on contentious and non-contentious employment law issues including business reorganisations, TUPE transfers, unfair dismissal, breach of contract and discrimination claims. He regularly delivers training courses, is a football agent within Darwin Gray's specialist Sport department and has experience in advising executives of major sporting organisations on all aspects of their employment and termination of employment needs.
Gareth said: "I'm delighted about my new role at Darwin Gray as a Senior Associate. Having been with the firm for more than ten years, I'm really pleased to be part of its continued growth and to have the opportunity to apply, in a more senior role, all that I have learned during my time here to an ever more varied list of clients and deals."
Owen added: "Gareth and I both completed our training contracts at Darwin Gray, so it's great to be able to grow through the ranks; it's really good to be with a firm that invests in the professional development of its lawyers and rewards them for their loyalty and hard work. Here, I have had the freedom to come up with ideas and run with them, such as the launch of Cyfreithwyr.com, which keeps my work interesting and means I am encouraged to think creatively when finding solutions for our clients too."
Donald Gray, co-founder of Darwin Gray said: "We have always placed a firm focus on recruiting and retaining dedicated trainee solicitors who soon build up reputations as leading experts within their fields. We are a growing firm with extensive expertise, which offers a personal service to each and every one of our clients looking for a legal one stop shop and advice they can trust from solicitors who have plenty of experience to draw on."
To keep up-to-date with our News and Updates follow us on Twitter: