September 20, 2021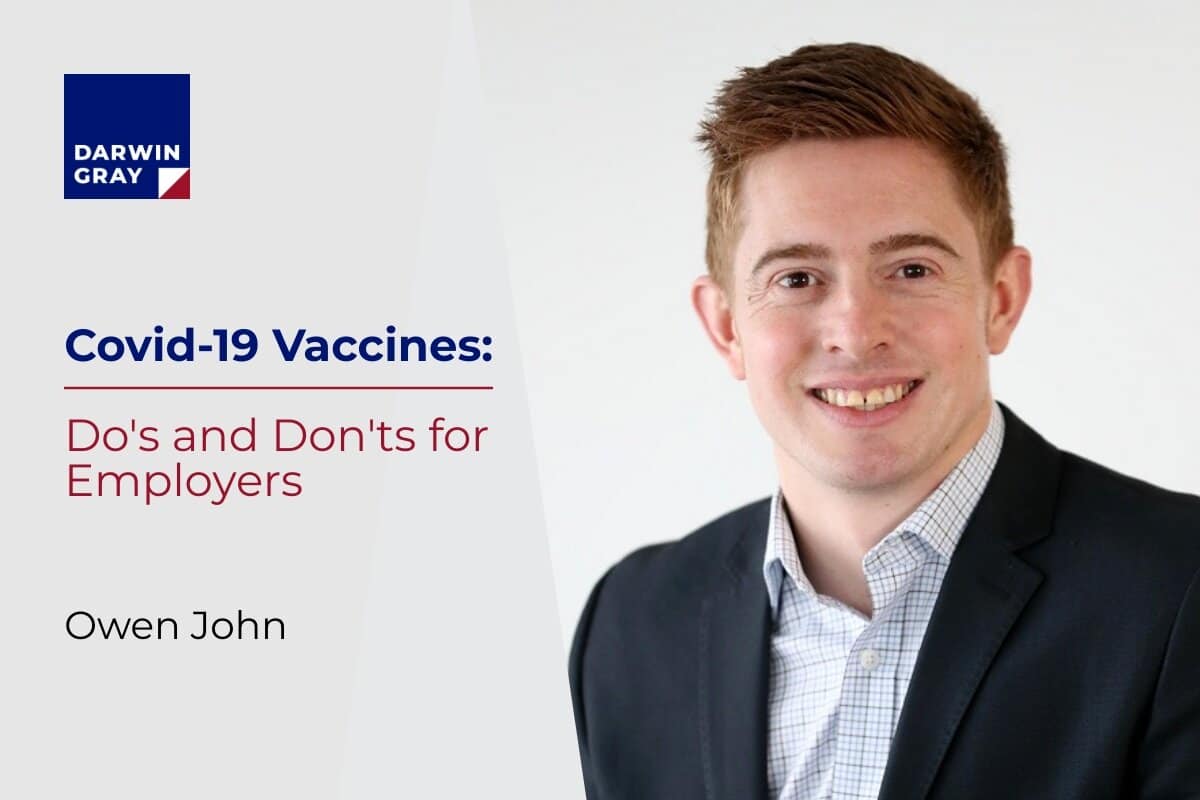 As the Winter months approach, employers are becoming increasingly concerned about limiting the spread of Covid-19 in the workplace and implementing measures to maintain a safe working environment for their employees.
Whilst it is well documented that vaccines are the most effective way to protect ourselves and others against Covid-19 in the workplace, the Covid-19 vaccine is currently only mandatory for individuals working in registered care homes in England. In the absence of vaccination being a legal requirement in Wales and in other sectors in England, employers must carefully consider the legal and business implications of taking proactive steps to encourage employees to have a Covid-19 vaccine.
Owen John sets out the do's and don'ts of managing the complex issue of vaccinations in the workplace.
DO
Encourage employees to be vaccinated by educating them and raising their awareness of the benefits of being vaccinated. Share educational and practical information from trusted resources about how to get vaccinated and the importance of the Covid-19 vaccination.

Support your employees by offering paid leave for vaccination appointments and paid sick leave if they suffer from side-effects after having the Covid-19 vaccine. You may also want to consider excluding any reasonable vaccine-related absences from employees' absence records to ensure that employees are not deterred from having the Covid-19 vaccine because they are concerned about vaccine-related absences impacting their attendance record.

If you request proof of vaccination from your employees in order to track levels of vaccination within your workforce and to assess the risk of transmission within the workplace, you must consider your data protection obligations. An employee's Covid-19 vaccination status has protected status of 'special category personal data' under data protection law and as such, should be protected and processed accordingly.

You must continue to comply with your workplace Covid-19 risk assessment, even if uptake of the Covid-19 vaccine is high in your workplace. Encouraging employees to have a Covid-19 vaccine and implementing a voluntary vaccination policy should not be a substitute for complying with health and safety measures designed to limit the spread of Covid-19.
DON'T
Don't ask a potential employee for proof of vaccination. Under section 60 of the Equality Act, the general position is that it is unlawful for an employer to ask questions relating to a candidate's health during a work application process. Therefore, asking for proof of vaccination at this stage could be unlawful.

Don't pressurise employees into having a vaccination. If an employee does not want to be vaccinated, listen to their concerns, be sensitive towards their personal situation and accept that having the vaccine is a personal choice.

Be careful not to unlawfully discriminate against employees who have not been vaccinated by treating them differently to vaccinated employees. If there is low take-up of the Covid-19 vaccine in the workplace, employers may be tempted to offer monetary or other incentives to staff who get vaccinated. However, this approach carries the potential risk of indirect discrimination claims from staff with protected characteristics who are unable to have the vaccine for reasons such as age, health, religion or belief.
How we can help
We can provide the following support to help your business navigate the sensitive issue of vaccinations in the workplace:
Advice: providing advice and assistance in relation to managing employees and the Covid-19 vaccine

Internal communication: assistance in communicating with staff regarding the Covid-19 vaccine

Voluntary vaccine policies: reviewing existing internal vaccine policies and/or providing new template policies and documents
Feel free to contact Owen John, employment lawyer and Partner at Darwin Gray, for a no-obligation conversation about the issue of vaccine and the workforce. 02920 829 118 / ojohn@darwingray.com