May 15, 2023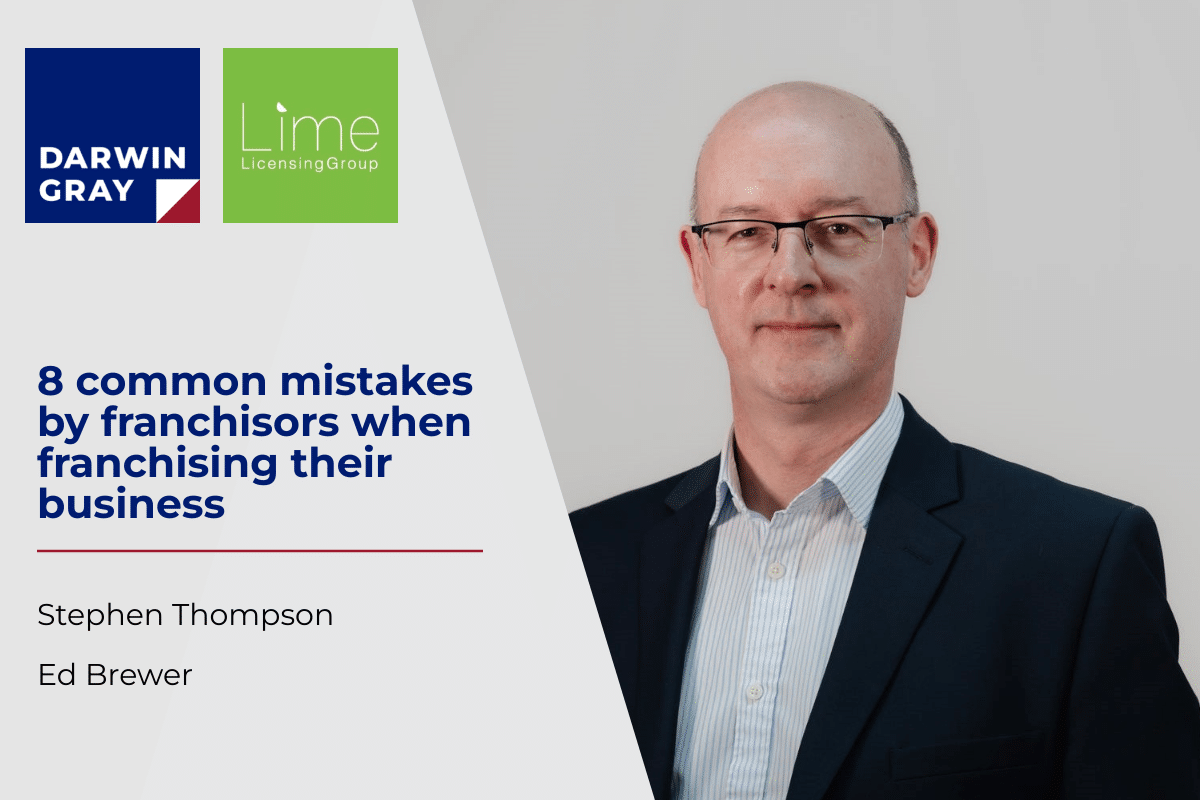 by Steve Thompson of Darwin Gray and Ed Brewer of Lime Licensing
Although most franchisors have usually been in business themselves for a reasonable period prior to franchising, many of them will not previously have franchised a business or developed a franchise network. Because of this fact many new franchisors make common mistakes, particularly in the early days of creating their franchise network.
Unfortunately, because of the relatively long-term nature of the contract between a franchisor and a franchisee, this can often cause the franchisor considerable problems with franchisees, who can often become disgruntled and in the worst-cases cause legal problems for the franchisor.
Many such mistakes are avoidable and we set out some of the more common examples below.
Brand not properly protected. Franchisees (or at least their lawyers) will expect the franchisor to have taken basic steps to protect the franchise brand. At the very least this will usually involve having registered the franchise trade name or trade mark with the intellectual property office (IPO). Not only does this demonstrate to the franchisee that the franchisor is serious about protecting its intellectual property, but it also provides a level of protection from unscrupulous franchisees and competitors.
Not using an NDA when disclosing information to prospective franchisees. During the sales and negotiating process leading up to a prospective franchisee signing a franchise agreement, they will usually have been provided with a fair amount of confidential business and financial information about the franchise. It is important that the franchisor ensures that the prospective franchisee signs an NDA (non-disclosure agreement) prior to disclosing more than the most basic business information. If they do not and the prospective franchisee decides not to proceed with the franchise, they will be free to set up in competition with the franchisor, with the benefit of the information disclosed.
Not properly operating a pilot franchise. It is important that, before selling franchises to third parties, the franchisor has properly run a pilot franchise. Ideally the pilot will have been run by a third party. In addition, the conditions under which the pilot has been operated should be as close to an actual franchise as possible, both in terms of the system followed and also the business conditions under which the franchise is operated, including financial. Without such an approach, the pilot operation will have limited value in terms of establishing that the franchise works in practice.
Not understanding the competition. There are over 1000 franchise brands in the UK and most business systems that are capable of being franchised have been. A prospective franchisor should carefully review what the competition is doing and ideally try to do it better. A new franchisor should pay particular attention to what the competition is charging and also what their unique selling point (USP) will be. It is important that this is all worked out before the franchisor starts selling franchises.
Not fully understanding what rights are being granted to franchisees. It is important that a new franchisor fully understands the nature and extent of the rights that they are granting to franchisees and also some of the complications that can arise, such as cross territory sales and marketing, online and off line sales and also how franchisees will go about scaling up their business.
Territory issues. Franchisors need to think very carefully about their territories and how they are defined. For example, in relation to a "man in a van" type business, the size of territories is often defined by the number of houses contained within a particular area. However, with retail franchises, the territory is often defined by a distance (usually a radius) from the trading premises.
The franchisor not saying "no" enough. Just because a prospective franchisee has the money to buy a franchise doesn't mean that they will be a good franchisee or that they will be the right "fit". It is important to think very carefully before taking a franchisee on. Once the parties have entered into a franchise agreement, it can be very difficult, time consuming and expensive (including legal fees) to unwind it if things don't work out. Franchisors should always remember that they are awarding a franchise as opposed to selling it.
Not focussing enough on network optimisation. As a franchisor you should make sure that you give your franchisees what you have promised them. Also, always remember your early franchisees – they can often get forgotten as the business develops and become disgruntled as a result. You will want your franchisees to give a good account of you and not have cause to become disgruntled, potentially resulting in them seeking legal advice on their position.
We hope that this article has given you an insight into some of the common mistakes made by franchisors when starting out with their franchised business.
Should you wish to discuss these issues or anything further, please contact either Steve Thompson, partner, Darwin Gray solicitors, on 07970 160166 or sthompson@darwingray.com or Ed Brewer, Regional Director, Lime Licensing, on 07570 512712 or ed@limelicensinggroup.co.uk.