February 11, 2022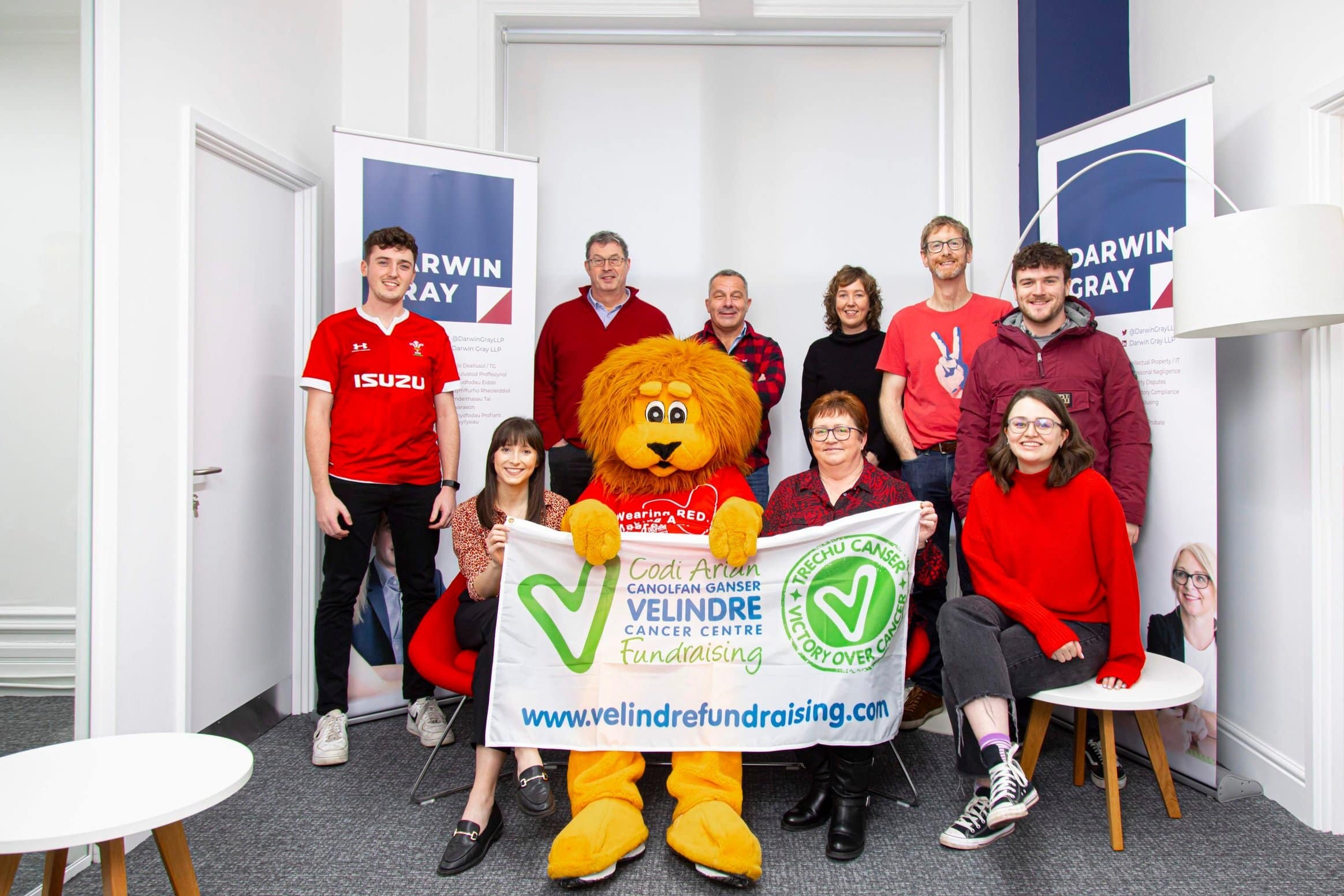 Cardiff based commercial law firm Darwin Gray LLP has chosen Velindre Cancer Centre as its Charity of the Year for 2022.
Darwin Gray's Corporate Social Responsibility committee are planning various events throughout the year to raise vital funds for Velindre, as well as supporting Velindre's own fundraising initiatives, kicking off with Wear Red Day on 4 February.
Velindre Cancer Centre is a specialist cancer diagnostic and treatment centre located in Cardiff. Its 650 plus strong team of staff provide invaluable support to those suffering with cancer and their families, helping over 1.5 million people across South Wales and further afield.
Fflur Jones, Managing Partner at Darwin Gray, said:
"The team at Darwin Gray are thrilled to have Velindre Cancer Centre as our charity of the year for 2021"

"With our National Health Service under more pressure than ever as a result of the pandemic, trusts such as Velindre Cancer Centre are proving to be invaluable to those who benefit from their services, both in terms of the care they provide to patients, and the world class research that they undertake"
Kylie McKee, Deputy Head of Fundraising at Velindre, said:
"We are absolutely delighted that the staff at Darwin Gray have chosen Velindre as their charity for 2022. We really look forward to working with them on various fundraising events and activities, including our Wear Red for Wales campaign, to raise vital funds for Velindre which will help our dedicated staff continue to provide our patients and their families with the best treatments, care and support services."
See below for more information about Velindre and the incredible work they do to support those affected by cancer across South Wales and beyond.
Website: https://velindre.nhs.wales/velindrecc/
Twitter: @Velindre
Facebook: @velindrecc
LinkedIn: https://www.linkedin.com/company/velindrecharity/
Instagram: velindrecc