November 18, 2019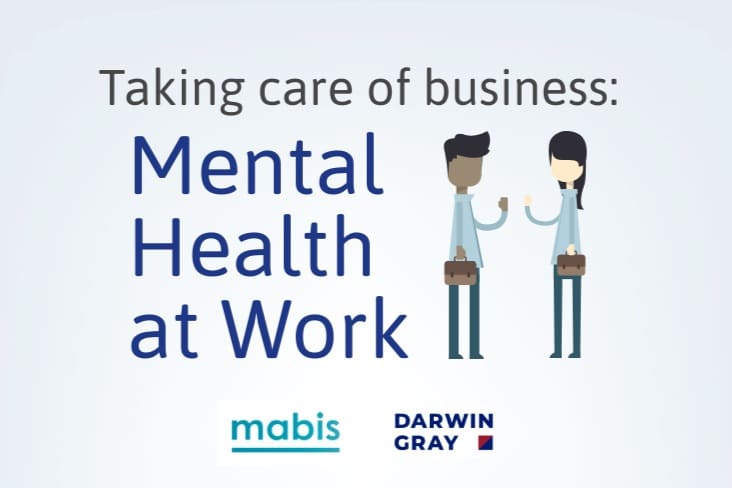 For Mental Health Awareness Week 2019, commercial law firm Darwin Gray and business support consultants Mabis launched a series of mental health conferences, starting in Aberystwyth.
To kick off the New Year, the next conference "Taking Care of Business: Mental Health at Work" will take place at St Fagans National Museum of History, and will be aimed at both individuals as well as businesses and organisations who are looking to tackle, manage, or improve mental health in the workplace.
All profits from the conference will be donated to local mental health charity Valleys Steps, whose mission is to transform the approach to mental wellbeing in communities.
The one-day conference will feature expert speakers from across Wales and the UK, who will be covering various aspects of mental health including mindful employment, mental health strategy, financial wellbeing and nutritional well-being. There will be opportunities to attend taster sophrology sessions as well as employment law and HR advice clinics.
Head of Employment & HR at Darwin Gray, Fflur Jones said:
"After the success of our conference in Aberystwyth, we are excited to be delivering this programme in Cardiff, with so many varied and thought-provoking sessions. Mental health is becoming more prevalent in the mind of the employer but there are still many challenges and approaches to consider when managing mental health issues that employees experience, both in and out of the workplace. We're looking forward to kick starting the New Year with a focus on such an important subject as well as raising funds for the worthy cause that is Valleys Steps."
HR Director at Mabis, Corinna Lloyd-Jones said:
"Good workplace mental wellbeing and effective people management and development practices are intrinsically linked. Employers whom invest in improving mental health at work report significant business benefits, including higher workforce motivation, engagement and creativity, resulting in better performance and productivity. Following the success of the first conference held in Aberystwyth earlier this year, we are delighted to be working with Darwin Gray once again in holding this subsequent event in Cardiff which will be an excellent opportunity to take a closer look at how good mental health is good for business as well as people, in addition to supporting another instrumental Welsh mental health charity."
The conference will culminate in a panel of experts, providing the opportunity for open questions and collaborative thinking to be shared as the floor is opened up to attendees.
Click here to see the full conference programme.
To book visit: https://mental-health-conference-29-january-2020.eventbrite.co.uk