December 2, 2019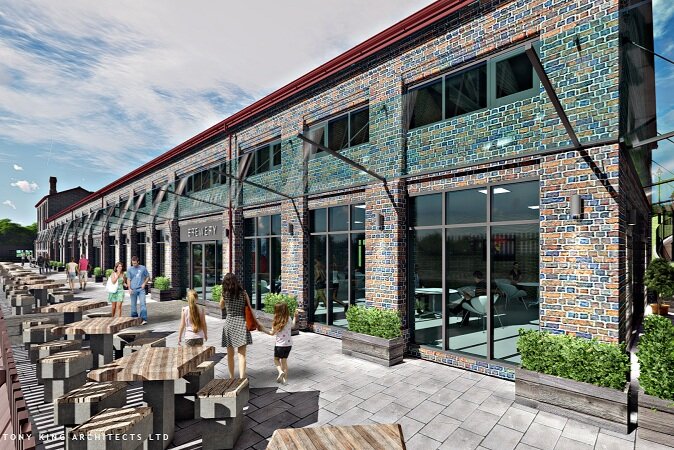 The development of the first urban high-street of the twenty-first century in the UK is in full swing in Barry, Vale of Glamorgan.
The Goodsheds development will include restaurants, a coffee drive-thru, an outdoor gym, a serviced apartment hotel, mini cinema, various offices, a farmer's market and festival area as well as a new high-street inside old railway carriages. Thirty-eight repurposed shipping containers will form a 'container village' offering food, retail and office space as well as a collaborative community space and a rooftop bar and terrace.
The regeneration of Barry and its waterfront in recent years has been transformational for the area and those living and working in it. With easy accessibility and affordable housing, Barry is a prime area to be a trail-blazer for the new urban high-street that will be Goodsheds. Delivered by LoftCo, the developers behind the Pumphouse, Goodsheds will be part of the "tsunami of change" in terms of the way that "we all live, work and play".
Speaking of the Pumphouse, Simon Baston, Director of LoftCo said:
"The scheme itself has been a raging success at all levels and is now seen as the centre/pivotal position in Barry." The Pumphouse is currently home to a coffee/cocktail bar run by Academy Coffee, the internationally renowned Hangfire restaurant and a Snap Fitness gym. Building on the success of this scheme, LoftCo will be working in collaboration with the Vale of Glamorgan Council on Goodsheds to further opportunities for local businesses and the surrounding community."
Having worked closely with Simon and LoftCo on both the Pumphouse and Goodsheds, Donald Gray, Head of Commercial Property at Cardiff law firm Darwin Gray, provides insight on the transformation in the sector over recent years:
"The way we work, live and socialise is changing and it is opening up an exciting world of opportunities for developments such as the Pumphouse and Goodsheds to deliver new-age living and working spaces. The South Wales landscape has seen a tremendous bout of regeneration in the past 10 years alone. It is a privilege to work with Simon and LoftCo to achieve their vision for transforming much more than buildings, but communities."
With Goodsheds looking to complete in early Summer of 2020, Simon explains how the development will positively impact the community:
"Inside the envelope of Barry, we want the Goodsheds to thrive and become an innovative, organic and free flowing community led scheme. Within the Goodsheds we've got a huge mixture, from internationally renowned chefs to the founding fathers of street food in Wales with successful coffee/cocktail bar companies, huge independent retailers. Largely speaking, all new tenants joining us are from a close-knit community within close proximity of the Goodsheds environment which, has been hugely encouraging in terms of us realising that the whole of Wales could work off a version of this new accessible twenty first century high street."