March 30, 2017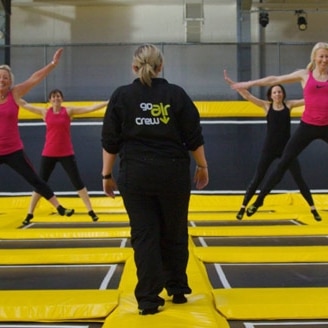 Leading Cardiff commercial law firm Darwin Gray has helped Wales' biggest trampoline park, Go Air, spring to success.
The 25,000 sq ft trampoline park on the site of the former Britvic factory, recently launched after support from Darwin Gray's specialist Corporate/Commercial and Property teams in leasing the premises from Brains Brewery.
The all-weather indoor jumping court is made up of 100 interconnected trampoline beds and has had backing from HSBC and the Welsh Government's Tourism Investment Support Scheme.
Lisa Entwistle-Evans, co-director at Go Air said: "We really have been very impressed with the Darwin Gray team.
"We invested quite a sizeable amount of money and Darwin Gray helped us with shareholders' agreements and also the lease. Darwin Gray was our first port of call, because they provide a full commercial legal service and were able to advise us in relation to all aspects of the deal. They have also been assisting us with the letting of commercial premises in Manchester.
"The team at Darwin Gray really got to know us and our business. Also, because they are a full service commercial law firm, we did not have to use different firms with different specialities."
The group have identified a number of sites around the UK, and are aiming to have five Go Air trampoline parks in operation by the end of 2016.
Stephen Thompson, Partner at Darwin Gray, said: "It is good to see the success that Go Air has already experienced since launching in Cardiff. At Darwin Gray, we support local businesses as much as we can and this was a particularly interesting project, because several of our teams were involved.
"We find that more and more of our clients choosing to work with us this way, by making use of several of our areas of expertise.
"We wish the Go Air team and directors all the very best and look forward to working with them again in future."
Article by Stephen Thompson.