November 18, 2020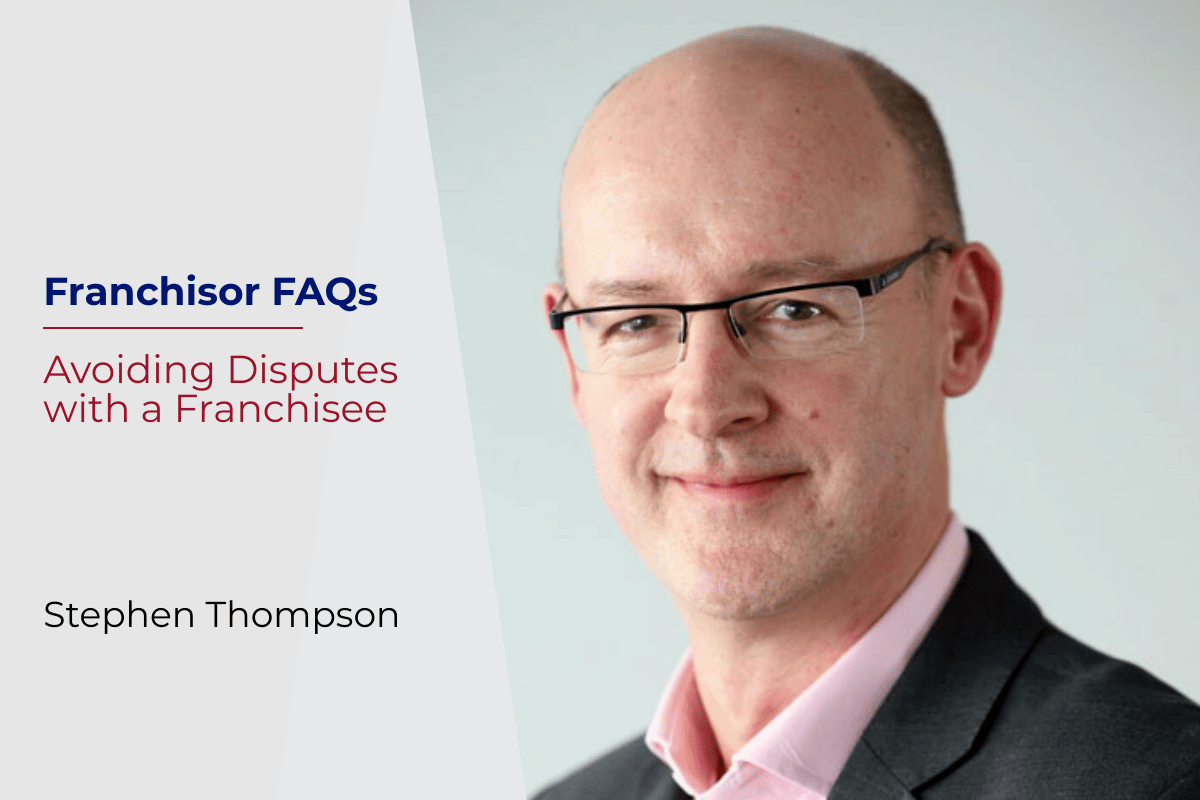 As a franchisor it's almost inevitable that you will, at some point, have a dispute with a franchisee. Such disputes can be emotionally and financially draining. They are also a distraction from running your franchise network.
Also, if things really escalate, a disgruntled franchisee can whip up trouble with other franchisees, who may end up disrupting your entire network.
Head of Franchising, Stephen Thompson answers some FAQs from franchisors on how to avoid getting into disputes with franchisees.
Q. As a franchisor, how important is your recruitment strategy when it comes to avoiding disputes with franchisees?
A. You should always adopt an effective recruitment strategy. The more relaxed your approach to the recruitment of franchisees, generally the higher the chance you will end up in dispute with them. Franchisors often base their recruit of franchisees on their ability to pay the franchise fee as opposed to their suitability as a franchisee. Assess the characteristics of your best franchisees, and use those as a matrix to assess your prospective franchisee applicants. A good recruitment strategy will also help you avoid taking on franchisees who think they are buying a job, rather than a business that they are responsible for.
Q. How important is the initial training?
A. Many franchisees complain that the training and support that they received at the start of a franchise was inadequate and not what they expected. It is important to ensure that franchisees are properly trained and supported at the launch stage to ensure that they start off on the right foot.
Q. Do franchisee mentoring systems help avoid disputes?
A. By appointing experienced franchisees as "mentors" to new franchisees, you will help support new franchisees in their early stages of growing their business. There are probably few problems that a new franchisee will encounter that a more experienced franchisee has not previously come up against.
Q. What about franchisee committees and forums?
A. Franchisee committees and forums, if properly run and moderated, provide an excellent forum for franchisees to air their concerns and grievances. By liaising regularly with an appointed representative of your franchisee committee or forum, you will ensure that your franchisees feel that their voices are being listed to and their views taken into account when key strategic decisions in relation to the franchise are taken. This should hopefully reduce the likelihood of disputes arising. You can also use the franchisee committees and forums to your benefit when introducing any changes to the network – a consultative approach will usually be much more successful than imposing changes unilaterally, and will reduce the level of ill-feeling among your franchisees.
Q. Should I review franchisee financial information on a regular basis?
A. Most professionally drafted franchise agreements provide the franchisor with the right to request regular financial information from their franchisees. However, many do not either request or review the information that they are entitled to. It is vitally important that as a franchisor you review regularly financial information from your franchisees. Not only will this enable you to monitor their performance, but you will also hopefully be able to spot problematic trends arising. Regular reviews will also help both you and your franchisees prepare in good time for renewing their agreements, or selling on.
Q. What should I do about a franchisee who is not following the system but is performing well financially?
A. Do not ignore breaches by high performing franchisees. By ignoring such behaviour, you are potentially storing up problems for the future. If a franchisee is not following the system then they are setting a bad example to the rest of the network and their failure to follow the system may spread to other franchisees. Also, by allowing "maverick" franchisees to get away with not following the system, you may end up devaluing your input in their eyes, which could lead to conflict going forward. If a franchisee has new ideas, then consider whether they are good enough to take on and roll out across the network, and recognising their contribution in some way – for example by an award.
Q. If a franchisee fails to follow the system should I start by sending a legal letter?
A. Consider using a tiered warning system for breaches. If a franchisee fails to follow the system, ideally you do not want to start with a legal letter. By adopting a system of tiered written warnings, you will hopefully bring an errant franchisee into line before things get out of hand.
Q. What about my operations manual?
A. Keep your operations manual under review. By regularly reviewing and updating your operations manual you should be able to ensure that your system keeps pace with commercial reality. Things change in business and you will need to ensure that your system keeps up to date with any developments in your market-place. If not and your franchisees struggle to compete, then resentment is likely to grow.
Q. Is it a good idea to use a cheap template franchise agreement off the internet?
A. You should use a professionally drafted franchise agreement to ensure that both you and also your network are adequately protected legally from the actions of rogue franchisees. Although it may be tempting to save money by simply downloading and using a template agreement off the internet, if a legal dispute arises such a course of action could well backfire.
Q. At what point should I take legal advice if a dispute arises?
A. Take appropriate advice at an early stage. By taking legal advice at an early stage in a dispute you will be able to be sure of your position legally. This will put you in a much stronger position when it comes to dealing with a problematic franchisee. By spending a modest amount on legal fees at an early stage, you will hopefully avoid a dispute becoming a costly court battle.